Thank you for your interest in Give Kids a Smile. The purpose of this charitable outreach program is to provide free care to low-income children in need. Thousands of dental professionals volunteer their time to this program because they understand the pain and embarrassment many children experience due to untreated dental problems. Each year, thousands of children receive much-needed dental care.
Finding a participating clinic in your area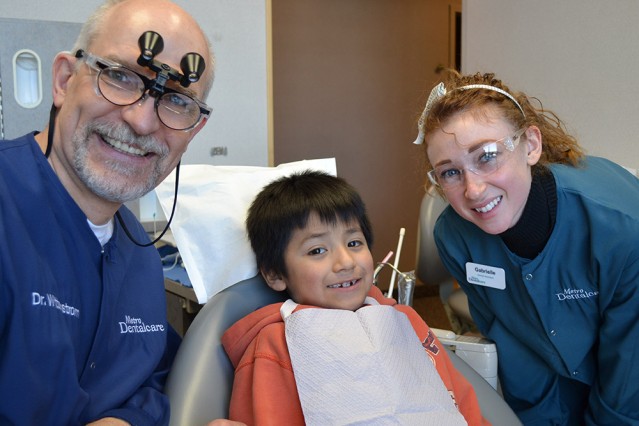 If your child could benefit from this program, please refer to the list of dental clinics below. The list is grouped alphabetically by county, then city. You may find it helpful to use your browser's "find" function to search this list for the name of your town, zip code, county, languages provided or service. Please note that the following list is not a comprehensive list of all dental clinics that are participating in Give Kids a Smile.
Making an Appointment
Find a dental clinic in your area, and then call the clinic to make an appointment. Please note that services provided vary, so discuss any specific dental concerns your child may have. The dental services described are not guaranteed and may be limited by time and the severity of any particular case. Please keep in mind that professionals are volunteering their time to serve your child. Once you have made an appointment for your child, make every possible effort to keep that commitment. Patients must be 18 years or younger and accompanied by a parent or legal guardian. Walk-in appointments are not available.
If You Need Assistance or Translation Services
Please call United Way 2-1-1 (or 800-543-7709), where Information and Referral Specialists can assist you in Hmong, Somali and Spanish Monday-Friday, 8 a.m. to 5 p.m. The specialists there can place a three-way call to the dental clinic and assist you in making an appointment.
Dental Offices Currently Taking Appointments for Give Kids a Smile Patients
Please check this list often, as clinics are added and removed continuously.
*Indicates events on alternative dates. Many clinics this year have alternative dates.
Anoka
Ling Family Dental
(763) 784-1993
10945 Ulysses St NE
Blaine, MN 55434
Services Offered: Exams, cleanings, fluoride varnishes, sealants, x-rays, fillings, extractions
Event Date: 2/7/2020
Office Hours: 12:30 PM to 3:30 PM
Anoka
Park Dental – Coon Rapids
(763) 786-4632
9145 Springbrook Drive
Suite 100
Coon Rapids, MN 55433
Services Offered: Exams, x-rays, cleanings, fluoride, sealants, fillings, extractions
Event Date: 2/7/2020
Office Hours: 1:00 PM to 4:00 PM
Anoka
Metro Dentalcare – Coon Rapids
(763) 323-3042
13040 Riverdale Drive
Suite 600
Coon Rapids, MN 55448
Services Offered: Cleanings, exams, x-rays, fluoride treatments
Event Date: 2/7/2020
Office Hours: 12:00 PM to 4:00 PM
https://www.metro-dentalcare.com/practices/metro-dentalcare-coon-rapids/
Anoka
Park Dental Riverdale
(763) 210-7096
3161 Northdale Blvd
Coon Rapids, MN 55433
Services Offered: Exams, cleanings, fluoride, sealants, x-rays, fillings, extractions
Event Date: 2/7/2020
Office Hours: 8:00 AM to 1:00 PM
Becker
Dental Associates
(218) 847-2624
1136 Washington Ave
Detroit Lakes, MN 56501
Services Offered: Exams, cleanings, fluoride treatments, sealants, x-rays, fillings, extractions
Event Date: 2/7/2020
Office Hours: 8:00 AM 12:00 PM
Beltrami
Northwest Technical College
(218) 444-9814
905 Grant Ave. SE
Bemidji, MN 56601
Services Offered: Exams, radiographs, cleanings, sealants, fluoride varnish, possibly fillings and extractions
Event Date: 2/7/2020
Office Hours: 8:30 AM to 3:30 PM
http://www.ntcmn.edu
Blue Earth
Minnesota State University, Mankato*
(507) 389-2147
150 South Road
Mankato, MN 56001
Services Offered: Exams, cleanings, fluoride varnishes, sealants, x-rays
Event Date: 2/6/2020
Office Hours: 8:00 AM to 5:00 PM
Additional language(s): Spanish
https://ahn.mnsu.edu/departments/department-of-dental-hygiene/about-the-department/public-dental-clinic/
Carlton
Tomhave Dental Associates
(218) 879-4541
1211 Stanley Ave
Cloquet, Mn 55720
Services Offered: Exams, cleanings, fluoride varnishes, sealants, x-rays, fillings, extractions
Event Date: 2/7/2020
Office Hours: 8:00 PM to 5:00 PM
http://www.tomhavedental.com
Carver
Park Dental – Chaska
(952) 361-0777
1150 Hazeltine Blvd.
Chaska, MN 55318
Services Offered: Exams, cleanings, fluoride varnishes, sealants, x-rays, fillings, extractions
Event Date: 2/7/2020
Office Hours: 9:00 AM to 12:00 PM
http://www.parkdental.com
Clay
Minnesota State Community and Technical College – Moorhead*
(218) 299-6588
1900 28th Ave. S.
Moorhead, MN 56560
Services Offered: Cleanings, fluoride varnishes, sealants, x-rays, oral health instruction, exams
Event Date: 2/5/2020
Office Hours: 9:00 AM to 4:00 PM
Crow Wing
Central Lakes College
(218) 855-8231
501 West College Drive
Brainerd, MN 56401
Services Offered: X-rays, oral hygiene instruction, mechanical polish, fluoride treatments, exams, sealants
Event Date: 2/7/2020
Office Hours: 8:00 AM to 5:00 AM
Dakota
Midwest Dental – Apple Valley
(952) 388-6900
15594 Pilot Knob Rd #100
Apple Valley, MN 55124
Services Offered: Exams, cleanings, fluoride, x-rays, fillings, extractions
Event Date: 2/7/2020
Office Hours: 8:00 AM to 12:00 PM
https://midwest-dental.com/locations/minnesota-dental-centers/apple-valley-mn/
Dakota
Mosaic Dental – Ridges*
(952)-435-0300
625 Nicollet Blvd East Suite #201
Burnsville, MN 55337
Services Offered: Exams, cleanings, fluoride varnishes, sealants, x-rays, fillings
Event Date: 2/6/2020
Office Hours: 1:00 PM to 5:00 PM
Dakota
Midwest Dental – Eagan
(651) 454-4771
1121 Town Centre Drive Suite #200
Eagan, MN 55123
Services Offered: Exams, cleanings, fluoride varnishes, sealants, x-rays, extractions, fillings
Event Date: 2/7/2020
Office Hours: 8:00 AM to 12:00 PM
https://midwest-dental.com/locations/minnesota-dental-centers/eagan-mn/
Dakota
Mosaic Dental Eagan*
(651) 681-9044
4555 Erin Dr 55122
Eagan, MN 55122
Services Offered: Exams, cleanings, x-rays, fluoride varnishes, sealants, fillings
Event Date: 2/6/2020
Office Hours: 2:00 PM to 5:00 PM
Additional language(s): Spanish
http://www.MosaicDental/Eagan
Dakota
Hastings Family Dental Care*
(651) 437-9764
955 Hwy 55
Suite 6
Hastings, MN 55033
Services Offered: Exams, x-rays, cleanings, fluoride treatments, sealants
Event Date: 2/6/2020
Office Hours: 10:00 AM to 2:00 PM
http://www.conwayhastingsfamilydental.com
Dakota
Bliss Family Dental 
(952) 447-3777
4792 Dakota Street SE
Prior Lake, MN 55372
Services Offered: Exams, cleanings, x-rays, fluoride varnishes, sealants
Event Date: 2/8/2020
Office Hours: 10:00 AM to 2:00 PM
http://www.blissfamilydental.com 
Goodhue
Midwest Dental – Zumbrota*
(507) 732-5346
350 22nd Street
Zumbrota, MN 55992
Services Offered: Exams, cleanings, fluoride varnishes, sealants, fillings
Event Date: 2/6/2020
Office Hours: 2:00 PM to 5:00 PM
https://midwest-dental.com/locations/minnesota-dental-centers/zumbrota-mn/
Grant
Elbow Lake Dental Center*
(218) 685-4710
18 Division St W
Elbow Lake, MN 56531
Services Offered: Exams, cleanings, fluoride, sealants, x-rays, fillings, extractions
Event Date: 1/31/2020
Office Hours: 8:00 AM to 2:00 PM
http://www.elbowlakedental.com
Hennepin
Normandale Community College*
(952) 358-8608
9700 France Ave South
Bloomington, MN 55431
Services Offered: Exams, cleanings, fluoride treatments, sealants, x-rays, oral hygiene instruction
Event Date: 2/6/2020
Office Hours: 12:00 PM to 6:00 PM
Additional language(s): Vietnamese
http://www.normandale.edu
Hennepin
Park Dental Eden – Prairie
(952) 949-2536
18315 Cascade Drive
Suite 120
Eden Prairie, MN 55347
Services Offered: Exams, cleanings, fluoride varnishes, sealants, x-rays, fillings, extractions
Event Date: 2/7/2020
Office Hours: 12:00 PM to 4:00 PM
Hennepin
Bassett Creek Dental
(763) 546-1301
5851 Duluth St. Suite 100
Golden Valley, MN 55422
Services Offered: Exams, cleanings, fluoride treatments, sealants, x-rays, fillings, extractions
Event Date: 2/8/2020
Office Hours: 8:00 AM to 12:00 PM
https://www.bassettcreekdental.com/
Hennepin
Lake Sarah Dental
(763) 575-8038
7500 State Highway 55
Suite 200
Greenfield, MN 55373
Services Offered: Cleanings, exams, x-rays, sealants, fillings, extractions
Event Date: 2/7/2020
Office Hours: 12:00 PM to 3:00 PM
https://www.lakesarahdental.com
Hennepin
Brook West Family Dentistry*
(763) 561-2273
7950 Main Street N Suite 205
Maple Grove, MN 55369
Services Offered: Exams, cleanings, fluoride treatment, sealants, x-rays, fillings
Event Date: 2/8/2020
Office Hours: 8:00 AM to 12:00 PM
http://www.brookwest.com
Hennepin
Nancy Norling, DDS
(952) 544-4129
1660 S Hwy 100 Suite 122
Minneapolis, MN 55416
Services Offered: Exams, cleanings, x-rays, fluoride treatments, sealants
Event Date: 2/7/2020
Office Hours: 8:00 AM to 1:00 PM
Additional language(s): Spanish
http://www.drnorling.com
Hennepin
NorthPoint Health and Wellness Center
(612) 543-2500
1313 Penn Avenue N.
Minneapolis, MN 55411
Services Offered: Exams, x-rays, cleanings, fluoride varnishes, sealants, fillings, crowns, extractions
Event Date (Day 1): 2/7/2020
Office Hours: 8:00 AM to 3:30 PM
Event Date (Day 2): 2/8/2020
Office Hours: 8:00 AM to 12:00 PM
Additional language(s): Spanish, Hmong, Somali, Russian
https://www.northpointhealth.org
Hennepin
Greenway Dental
(612) 424-6850
2309 Lyndale Ave S
Minneapolis, MN 55405
Services Offered: Exams, cleanings, fluoride varnishes, sealants, x-rays, fillings, extractions
Event Date: 2/7/2020
Office Hours: 8:00 AM to 2:00 PM
https://www.greenwaydentalmpls.com
Hennepin
Linden Hills Dentistry
(612) 922-6164
4289 Sheridan Avenue S
Minneapolis, MN 55410
Services Offered: Exams, cleanings, fluoride varnishes, sealants, x-rays, fillings, extractions
Event Date: 2/8/2020
Office Hours: 8:00 AM to 1:00 PM
https://www.lindenhillsdentistry.com
Hennepin
ADT Dental
(612) 377-6108
2232 Hennepin Ave S.
Minneapolis, MN 55405
Services Offered: Exams, cleanings, fluoride varnishes, sealants, x-rays, fillings, extractions
Event Date: 2/7/2020
Office Hours: 8:00 AM to 3:00 PM
http://www.adtdental.com
Hennepin
Children's Dental Services
(612) 746-1530
636 Broadway St NE
Minneapolis, MN 55413
Services Offered: Exams, cleanings, x-rays, fillings, fluoride varnishes, sealants, crowns, extractions
Event Date (Day 1): 2/7/2020
Office Hours: 8:30 AM to 5:00 PM
Event Date (Day 2): 2/8/2020
Office Hours: 9:00 AM to 1:00 PM
Additional language(s): Spanish, Hmong, Somali, Vietnamese, American Sign Language, Oromo, Karen, Italian, Russian, Amharic, and Arabic.
http://childrensdentalservices.org/
Hennepin
Citytooth
(612) 338-2835
825 Nicollet Mall, Ste 812
Medical Arts Building
Minneapolis, MN 55402
Services Offered: Exams, cleanings, fluoride varnishes, sealants, x-rays
Event Date: 2/7/2020
Office Hours: 8:00 AM to 1:00 PM
https://CityTooth.com
Hennepin
Gentle Dentistry
(952) 224-9775
7500 42nd Avenue N Suite A
New Hope, MN 55427
Services Offered: Exams, cleanings, fluoride varnishes, sealants, x-rays, fillings, extractions
Event Date: 2/8/2020
Office Hours: 7:00 AM to 4:00 PM
http://www.smilemn.com
Hennepin
Dental Health Care Center
(612) 861-7109
1717 East 66th Street
Richfield, MN 55423
Services Offered: Exams, cleanings, Fluoride varnishes, sealants, x-rays, fillings, extractions.
Event Date: 2/7/2020
Office Hours: 9:00 AM to 2:00 PM
http://www.dentalhealthcarecenter.com
Hennepin
Community Dental Care – Robbinsdale*
(763) 270-5776
3359 West Broadway
Robbinsdale, MN 55422
Services Offered: Oral health instruction, x-rays, fillings, exams, cleanings, crowns, space maintainers
Event Date: 2/1/2020
Office Hours: 8:00 AM to 12:00 PM
Additional language(s): Spanish, Hmong
https://www.cdentc.org/
Hennepin
Park Dental – Silver Lake
(763) 781-7475
2600 39th Ave NE #225
St. Anthony, MN 55421
Services Offered: Exams, X-rays, cleanings, fluoride, sealants, fillings and extractions
Event Date: 2/7/2020
Office Hours: 1:00 PM to 4:00 PM
https://www.parkdental.com/location/park-dental-silver-lake/
Hennepin
St. Anthony Village Dentistry
(612) 781-9270
2525 33rd Ave. NE
St. Anthony, MN 55419
Services Offered: Exams, cleanings, fluoride varnishes, sealants, x-rays, fillings, extractions
Event Date: 2/7/2020
Office Hours: 12:00 PM to 3:00 PM
Hennepin
Park Dental – St. Louis Park
(952) 950-3700
5000 W 36th Street
St. Louis Park, MN 55416
Services Offered: Cleanings, exams, x-rays, fillings, extractions, fluoride, sealants
Event Date: 2/7/2020
Office Hours: 1:00 PM to 4:00 PM
Additional language(s): Spanish
Hennepin
Park Dental Ridgepark
(952) 545-8603
13059 Ridgedale Dr
Minnetonka, MN 55305
Services Offered: Exam, cleanings, fluoride, sealants, x-rays, fillings, extractions
Event Date: 2/7/2020
Office Hours: 1:00 PM to 4:00 PM
https://www.parkdental.com/location/park-dental-ridgepark/
Isanti
Cambridge Dental Center
(763) 689-1554
135 Opportunity Blvd S
Cambridge, MN 55008
Services Offered: Exams, cleanings, fluoride treatments, x-rays, sealants, fillings, extractions, root canals
Event Date: 2/7/2020
Office Hours: 8:00 AM to 12:00 PM
http://www.cambridgedentalcenter.com
Isanti
Cambridge Family Dental
(763) 689-5699
1596 2nd Ave NE Suite A
Cambridge, MN 55008
Services Offered: Exams, cleanings, fluoride treatments, sealants, fillings
Event Date: 2/8/2020
Office Hours: 8:00 AM to 12:00 PM
http://www.CambridgeFamilyDental.com
Isanti
Melissa Hutchens DDS PA
(763) 552-1616
538 South Main Street, Suite 130
Cambridge, MN 55008
Services Offered: Exams, cleanings, fluoride, sealants, x-rays, fillings, extractions
Event Date: 2/7/2020
Office Hours: 8:00 AM to 12:00 PM
Isanti
Soft Dental
(320) 358-4733
1220 West 3rd Street
Rush City, MN 55063
Services Offered: Preventative care
Event Date: 2/7/2020
Office Hours: 8:00 AM to 12:00 PM
Additional language(s): Vietnamese
Itasca
Anderson Family Dental*
(218) 245-1278
209 McLean Ave
Coleraine, MN 55722
Services Offered: Exams, cleanings, fluoride treatments, sealants, x-rays, fillings, extractions
Event Date: 2/6/2020
Office Hours: 9:00 AM to 4:00 PM
http://www.andersonfamilydentalmn.com
Kandiyohi
Green Lake Dental
(320) 796-2158
163 Hwy. 23 NE, Suite 1
Spicer, MN 56288
Services Offered: Cleanings, fluoride varnishes, sealants, x-rays, fillings, extractions
Event Date: 2/7/2020
Office Hours: 8:00 AM to 12:00 PM
https://www.greenlakedentalmn.com/
Kandiyohi
Carris Health Dental Clinic
(320) 214-2620
301 Becker Ave SW
Willmar, MN 56201
Services Offered: Oral health education, cleanings, exams, sealants, fluoride varnishes
Event Date: 2/7/2020
Office Hours: 12:00 PM to 4:00 PM
Additional language(s): Spanish, Somali, Karen
https://www.carrishealth.com/services/dental-clinic/
Nicollet
North Mankato Family Dentistry
(507) 625-2273
1400 Lookout Dr
North Mankato, MN 56003
Services Offered: Exams, cleanings, fluoride varnishes, sealants, x-rays, fillings, extractions
Event Date: 2/7/2020
Office Hours: 8:00 AM to 3:00 PM
Nicollet
St Peter Family Dental Center
(507) 931-1230
402 Sunrise Drive
Saint Peter, MN 56082
Services Offered: Exams, cleanings, fluoride treatments, sealants, x-rays, fillings, extractions
Event Date: 2/7/2020
Office Hours: 8:00 AM to 1:00 PM
http://www.stpeterfamilydentalcenter.com
Nicollet
Riverside Dental Care
(507) 931-5646
217 Nassau Street
St. Peter, MN 56082
Services Offered: Exams, cleanings, fluoride varnishes, sealants, x-rays
Event Date: 2/7/2020
Office Hours: 8:00 AM to 12:00 PM
http://riversidedentalcarestpeter.com
Olmsted
Midwest Dental – Chatfield
(507) 867-3550
431 Main Street North, Suite B
Chatfield, MN 55923
Services Offered: Exams, cleanings, fluoride varnishes, sealants, x-rays, fillings
Event Date: 2/7/2020
Office Hours: 7:00 AM to 12:00 PM
http://www.midwest-dental.com/chatfield
Olmsted
Children's Dental Health Services
(507) 529-0436
903 W Center St., Ste. 130
Rochester, MN 55902
Services Offered: Exams, cleanings, fluoride varnishes, sealants, x-rays, fillings, extractions, crowns
Event Date: 2/7/2020
Office Hours: 9:00 AM to 4:00 AM
Olmsted
Community Dental Care – Rochester*
(507) 258-7934
2120 US Highway 14E
Rochester, MN 55904
Services Offered: Oral health instruction, x-rays, fillings, exams, cleanings, crowns, space maintainers
Event Date: 1/31/2020
Office Hours: 2:00 PM to 5:00 PM
https://www.cdentc.org/
Olmsted
Children's Dental Health Services
(507) 529-0436
903 W Center Street, Ste 130
Rochester, MN 55902-6278
Services Offered: Cleanings, fluoride varnishes, sealants, x-rays, exams, fillings, extractions, root canals, stainless steel crowns
Event Date: 2/7/2020
Office Hours: 9:00 AM to 4:00 PM
Additional language(s): Spanish
http://www.twentyteeth.org
Olmsted
Root River Dental
(507) 533-7735
501 Main Street S
Stewartville, MN 55976
Services Offered: Exams, cleanings, fluoride varnishes, sealants, x-rays, fillings, extractions
Event Date: 2/7/2020
Office Hours: 8:00 AM to 12:00 PM
https://www.rootriverdental.com/
Otter Tail
Hamann Dentistry
(218) 346-4775
200 First Ave. So.
Perham, MN 56573
Services Offered: Exams, cleanings, fluoride varnishes, sealants, fillings, extractions, x-rays
Event Date: 2/7/2020
Office Hours: 8:00 AM to 12:00 PM
http://www.hamanndentistry.com
Pipestone
All About Smiles*
(507) 825-4214
118 West Main Street
Pipestone, MN 56169
Services Offered: Exams, cleanings, fluoride varnishes, x-rays
Event Date: 2/5/2020
Office Hours: 12:30 PM to 4:30 PM
http://www.info@yourdentalhome.net
Ramsey
Community Dental Care – Maplewood*
(651) 925-8400
1670 Beam Avenue
Maplewood, MN 55109
Services Offered: Oral health instruction, x-rays, fillings, exams, cleanings, crowns, space maintainers
Event Date: 2/1/2020
Office Hours: 8:00 AM to 12:00 PM
Additional language(s): Spanish, Hmong,
https://www.cdentc.org/
Ramsey
Metropolitan State University Dental Clinic
(651) 793-1793
1670 Beam Ave.
Maplewood, MN 55109
Services Offered: Exams, cleanings, fluoride varnishes, sealants, x-rays, fillings, extractions
Event Date: 2/7/2020
Office Hours: 8:30 AM to 2:30 PM
Additional language(s): Spanish
Ramsey
Park Dental Roseville
(651) 636-2123
1835 County Road C West
Suite 220
Roseville, MN 55113
Services Offered: Exams, cleanings, x-rays, fillings, sealants
Event Date: 2/7/2020
Office Hours: 12:00 PM to 4:00 PM
https://www.parkdental.com/location/park-dental-roseville/
Ramsey
Hope Dental Clinic*
651-789-7605
800 Minnehaha Ave E Ste 465
Saint Paul, MN 55106
Services Offered: Exams, cleanings, fluoride varnishes, sealants, x-rays, fillings, extractions
Event Date (Day 1): 2/14/2020
Office Hours: 8:00 AM to 4:00 PM
Event Date (Day 2): 2/15/2020
Office Hours: 9:00 AM to 4:00 PM
Additional language(s): Spanish
https://hopedentalclinic.org
Ramsey
Community Dental Care – St. Paul*
(651) 774-2959
828 Hawthorne Avenue
Saint Paul, MN 55106
Services Offered: Oral health instruction, x-rays, fillings, exams, cleanings, crowns, space maintainers
Event Date: 1/31/2020
Office Hours: 2:00 PM to 5:00 PM
Additional language(s): Spanish, Hmong
https://www.cdentc.org/
Ramsey
East Dental Family Dentistry
(651) 774-6085
1346 Payne Ave
St. Paul, MN 55130
Services Offered: Exams, cleanings, fluoride treatments, x-rays, sealants, fillings, extractions
Event Date: 2/7/2020
Office Hours: 8:00 AM to 12:00 PM
Additional language(s): Hmong
https://www.eastdentalmn.com/
Ramsey
Open Cities Health Center
(651) 290-9230
409 N. Dunlap Street
St. Paul, MN 55104
Services Offered: Sealants, fluoride, visual screenings
Event Date: 2/7/2020
Office Hours: 8:30 AM to 4:00 AM
Additional language(s): Spanish, Hmong and Somali
https://opencitieshealth.org
Ramsey
East Dental Family Dentistry
(651) 774-6085
1346 Payne Ave
St. Paul, MN 55130
Services Offered: Exams, cleanings, fluoride treatments, sealants, x-rays, fillings, extractions
Event Date: 2/7/2020
Office Hours: 8:00 AM to 12:00 PM
Additional language(s): Hmong
http://www.eastdentalmn.org
Rice
Midwest Dental – Faribault
(507) 334-7595
412 Heritage Place
Faribault, MN 55021
Services Offered: Exams, cleanings, fluoride varnishes, sealants, x-rays, fillings, extractions
Event Date: 2/7/2020
Office Hours: 8:00 AM to 12:00 PM
http://www.midwest-dental.com
Scott
Strait Smiles Family Dentistry
(952) 873-6380
201 W. Raven St.
Belle Plaine, MN 56011
Services Offered: Exams, cleanings, fluoride treatments, sealants, x-rays, fillings
Event Date: 2/7/2020
Office Hours: 8:00 AM to 1:00 PM
St. Louis
Lake Superior College Dental Hygiene Clinic
(218) 733-5939
2101 Trinity Road
Duluth, MN 55811
Services Offered: Exams, cleanings, fluoride varnishes, sealants, x-rays, fillings and extractions
Event Date: 2/7/2020
Office Hours: 9:00 AM to 4:00 PM
St. Louis
Chester Creek Dental
(218) 724-1332
1324 East First Street
Duluth, MN 55811
Services Offered: Exams, cleanings, fluoride varnishes, sealants, x-rays, fillings
Event Date: 2/7/2020
Office Hours: 8:00 AM to 12:15 PM
https://www.chestercreekdental.com/
Stearns
Midwest Dental – Melrose
(320) 256-4267
203 East Main St Ste A
Melrose, MN 56352
Services Offered: Exams, cleanings, fluoride treatments, sealants, x-rays, fillings
Event Date: 2/8/2020
Office Hours: 8:00 AM to 12:00 PM
Additional language(s): Spanish
http://www.midwest-dental.com/melrose
Stearns
St. Cloud Technical and Community College
(320) 308-5919
1245 15th St. N
St. Cloud, MN 56303
Services Offered: Exams, cleanings, fluoride treatment, x-rays, fillings, extractions, oral health instruction, sealants
Event Date: 2/7/2020
Office Hours: 8:30 AM to 12:30 PM
http://www.SCTCC.edu
Washington
Lindgren Dental Care PLLC
(651) 769-1000
6936 Pine Arbor Drive S
Suite 210
Cottage Grove, MN 55016
Services Offered: Exams, cleanings, fluoride varnishes, sealants, x-rays, fillings, extractions
Event Date: 2/7/2020
Office Hours: 8:00 AM to 1:00 PM
http://www.lindgrendentalcare.com
Washington
Park Dental – Hugo
(651) 407-0999
14741 Victor Hugo Blvd N
Hugo, MN 55038
Services Offered: Exams, cleanings, fluoride, sealants, x-rays, fillings, extractions
Event Date: 2/7/2020
Office Hours: 12:30 PM to 4:00 PM
https://www.parkdental.com/hugo
Washington
The Oral Surgery Center
(651) 233-2140
8401 Seasons Parkway
Woodbury, MN 55125
Services Offered: Extractions
Event Date: 2/7/2020
Office Hours: 8:00 AM to 5:00 PM
https://www.theoralsurgerycenter.com/
Washington
St. Paul Pediatric Dentistry
(651) 797-4266
604 Bielenberg Drive
Suite 230
Woodbury, MN 55125
Services Offered: Exams, cleanings, fluoride varnishes, sealants, x-rays, fillings, extractions
Event Date: 2/8/2020
Office Hours: 8:00 AM to 12:00 PM
https://www/stpaulkidsdentist.com