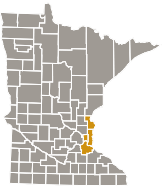 Founded in 1906, this Society has grown until today it serves four counties of the Saint Paul area (Ramsey, Dakota, Washington & Chisago) including over 650 dentists as members.
The Saint Paul District Dental Society (SPDDS) offers peer review and mediation, an annual Midwinter Meeting, electronic newsletter, other and networking events, and many leadership and volunteer opportunities.
Mission
The SPDDS is the local association of dentists which promotes the oral health of the public, ethics, science and professional advancement of our members.
On-demand CE
Missed the 2022 Virtual Midwinter Meeting? You can still view the presentation and get CE credits for it. Simply click on this link to the Midwinter Meeting to fill out the form and payment information. You will then receive a link with the video. Once you have watched the presentation, you can then click on the CE request form to obtain the CE certificate.
2022 SPDDS Midwinter Meeting Speaker: Deepak Kademani DMD MD FACS
Oral Dysplasia and Cancer: Management and Case Review and
Comprehensive Review of Obstructive Sleep Apnea
COURSE SYNOPSIS:
Oral dysplasia and cancer are significant challenges for the dental community. This program will provide participants the latest evidence-based information and management strategies. The second portion of the program will be dedicated to obstructive sleep apnea (OSA). OSA is significantly under-diagnosed and is a cause of significant cause of morbidity and mortality. Both topics will be presented with the latest evidence-based approach with a case-based clinically orientated approach with algorithms for care.
COURSE OBJECTIVES:
After attending the lecture and reading the handout, the participant should be able to:
1. Discuss the clinical presentation of oral dysplasia and cancer
2. Review staging and management strategies of oral cancer
3. Understand the diagnosis and management of obstructive sleep apnea
About Deepak Kademani, DMD, MD, FACS
Dr Kademani's dental, medical degrees and surgical residency in Oral and Maxillofacial Surgery education was at the University of Pennsylvania.  This was followed by a fellowship in Head and Neck Surgery.   He was subsequently board certified by the American Board of Oral and Maxillofacial Surgery and has a Certificate of Added Qualification in Head and Neck Oncologic and Reconstructive Surgery. In 2004 he was the recipient of the American Association of Oral and Maxillofacial Surgeons Faculty Education Development Award.
After the completion of his surgical training, Dr. Kademani moved to Minnesota to join the Department of Surgery at the Mayo Clinic in Rochester where he was an Assistant Professor. In 2008, he joined the faculty at the University of Minnesota as an Associate Professor in Oral and Maxillofacial Surgery. He has served numerous roles including Chairman of the Department of Surgery, Fellowship Director for the Oral/Head and Neck Surgery Program and Chief of Oral and Maxillofacial Surgery at North Memorial Medical Center.  He is currently Chief of Staff at North Memorial Medical Center.
In 2020, Dr. Kademani received the Committee Person of the Year Award for his participation on AAOMS committees.
Dr. Kademani is a member of numerous professional societies, including the American College of Surgeons and the American Head and Neck Society. In addition to authoring or co-authoring over one hundred books, abstracts, chapters, monographs, and publications, he has authored two textbooks: Atlas of Oral and Maxillofacial Surgery and Improving Outcomes in Oral Cancer.  He has delivered over 300 invited lectures nationally and internationally on a variety of topics, predominantly in head and neck pathology, oral cancer and reconstructive head and neck surgery. He has served as President of the Minnesota Society of Oral and Maxillofacial Surgeons. He has served as on the Examination Committee for the American Board of Oral and Maxillofacial Surgery and was recently elected as Director. He has a number of roles associated with the American Association of Oral and Maxillofacial Surgery, including being appointed as Chair of Committee of Continuing Education and Professional Development, Research Committee and the Committee on Oral/Head and Neck Oncologic and Reconstructive Surgery. With the American Dental Association, Dr Kademani serves on the Clinical and Scientific Affairs Committee.
His practice is dedicated to the care of head and neck cancer, oral cancer, salivary gland tumors, thyroid, skull base surgery and reconstructive head and neck surgery, orthognathic, TMJ, sleep apnea and dentoalveolar surgery.  He prides himself on delivering the highest quality and compassionate surgical care to his patients. In his free time, he enjoys time playing golf, travelling and spending time with his family, and has a soft spot for cars.
Pricing
ADA Member Dentists & Staff – $35
Non-ADA Member Dentists & Staff – $40
Non-Dental Guests – $35
Student / $10
CE
Anticipated 3.5 Core (Diagnostic & Treatment Planning)