Find an MDA member Dentist
With over 3,000 member dentists, representing  practicing dentists throughout the state, you are sure to find a dentist near you.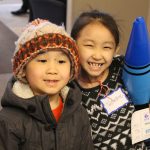 Give Kids a Smile
Appointments now being taken!
Clinics are now taking appointments for February 2 and 3 (some on alternative dates) for this annual charitable event that puts healthy smiles on the faces of thousands of Minnesota children.
PLEASE NOTE: Several clinics this year are hosting their events on alternative dates. These clinics will have a * next to their name.