Hosted by the Minneapolis and Saint Paul Districts and the Minnesota Dental Association
MINI, MAXI AND MID-SIZE IMPLANTS: WHAT? WHERE?
*Online registration is now closed.
*Onsite registration (for up to 20) is available on a first come, first served basis. 
Date & Location
September 29, 2016
University of Minnesota McNamara Alumni Center, 200 Oak Street SE, Minneapolis, 55422
Course Description
Implant therapy has become the standard and often most desirable treatment choice to replace missing teeth or stabilize loose dentures. Implant treatment options range from a single tooth implant and crown to full arch immediate bridges on four to eight implants. Our patients have ranged from the early teens to the mid 90s. In addition to the variety of patients and needs, there are now a huge variety of implants to choose
from. Successful results based on good diagnosis, treatment planning, surgical skills, and documented research should be everyone's goal.
Program Learning Objectives
Understand the variety of implant modalities available.
Understand the indications and limitations of different implants.
Know the training and surgical skills needed for implant placement.
Be able to treatment plan dental implants for predictable success.
Schedule
5:00 p.m.  Social/Networking Reception*
6:00 p.m.  Program and Lecture
7:15 p.m.  Student Networking
*A variety of chef specially-created butler-passed and buffet hors d'oéuvres to be enjoyed during the networking social reception with the dental students. Cash Bar. Everyone will receive one (1) complementary beverage ticket with registration
About the Speakers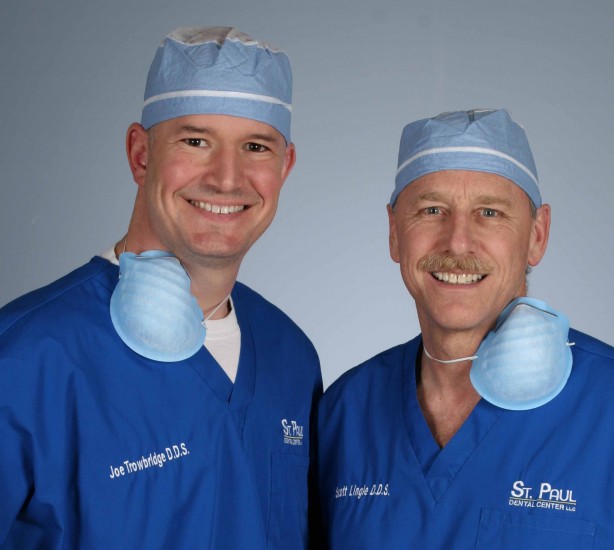 Drs. Scott Lingle and Joe Trowbridge are both full time practicing dentists at St. Paul Dental Center in St. Paul and at the Dental Implant Center in Golden Valley. In addition to general dentistry, they provide referral implant surgery services to dentists throughout the state. They are the cofounders of the Great Lakes Implant Institute and have been faculty at the Rocky Mountain Dental Institute. Dr. Lingle also teaches at the Triangle Implant Institute in North Carolina. Drs. Lingle and Trowbridge are both graduates of the University of Minnesota School of Dentistry and are both Fellows in the International Congress of Oral Implantologists. Dr. Lingle is a past president of the St. Paul District and the Minnesota Dental Association. Dr. Trowbridge is a past treasurer of the St. Paul District and current treasurer of the Pierre Fachard Academy.
Notice to Practicing Dentists – Don't forget your business cards!
Advice you can share with new D.D.S. on their future search. This is your opportunity to network, make one-on-one contacts with and meet with the dental students from the U of M. A speed networking event will be held at 7:15 p.m. for all attendees. Looking for an associate or dental partner? Bring your business cards along! Help a young future D.D.S.
One CE credit will be given.
Register online (below) or mail this print registration with payment.
Parking
The University Avenue Parking Ramp will be in its hourly rate.
Directions and parking information
Registration is closed.