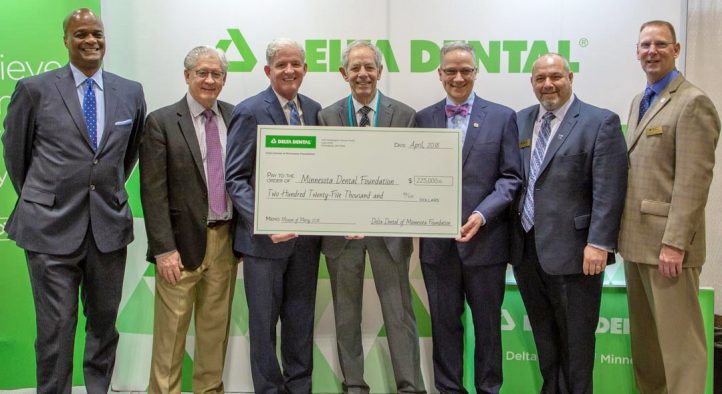 Your financial support is needed!
Tax-deductible financial donations and in-kind contributions are critical to the success of a MOM event. To help cover necessary dental equipment and supplies, pharmaceuticals, and food costs for the three-day event, over $250,000 in cash and in-kind donations is needed. The generosity of major corporations, community organizations and charitable individuals will be critical to the success of Minnesota's MOM event. Please consider making a donation and making a difference in the lives of patients in need…..they will thank you from the bottom of their hearts.
The Minnesota Dental Foundation is a 501(c)(3) not-for-profit public foundation with the primary mission of eliminating unmet oral health needs in Minnesota. To make your tax-deductible donation to MnMOM, please download and print the donor form.
Thank you to our generous donors!
These foundations, corporations, organizations and individuals have donated cash, supplies, support, or services to the Minnesota Mission of Mercy. We thank them for their generosity!
2022 MnMOM Cash Donors
Foundations/Corporations
Delta Dental of Minnesota – Signature Sponsor
Blue Cross & Blue Shield of Minnesota and Blue Plus
International College of Dentists
Medica Foundation
Oral Health Foundation of Pierre Fauchard Academy
Park Dental Foundation
Patterson Foundation
PCI
ThinkBank
United Healthcare Community Plan of Minnesota
Visit Greater St. Cloud
District Dental Societies
Northwestern District Dental Society
Northwestern District Dental Society in memory of Dr. David Fihn
Northwestern District Dental Society in memory of Garett Larson
St. Paul District Dental Society
West Central District Dental Society
Dental Organizations
Minnesota Academy for Comprehensive Dentistry
Minnesota Association of Orthodontists
Member Dentists / Dental Offices / Dental Clinics
Dr. Hsinhuei Chiou
Dr. Patricia & Thomas Kingston
Northwood Dental in memory of Dr. Stephen Hunter
Pura Vida Orthodontics
Walnut Street Dental
Doug & Kim Williams in memory of Phyllis Sjulson
Dr. James Zenk
Others
Anonymous
Dawn Jensen
Amy Maurer
Cathy Seward & Tom Peichel
Sisters of St. Benedict
Jessica Siverson in honor of Andrew & Diana Zwers
Linda Pahl Skatvold in honor of Dr. Erik Skatvold
David Steimer
Joan Swenson in memory of her mother
Huanan Tao
Fran & Bill Thelen
2022 MnMOM In-Kind Donors
Anonymous
Aramark Uniform Services – St. Cloud
Benco Dental Supply
Best Western Plus – St. Cloud
Colgate
Courtyard by Marriott – St. Cloud
Custom Catering by ShortStop
Dental Health Products, Inc.
Enova Illumination
Halyard Health
Henry Schein Cares/International College of Dentists
Henry Schein Dental Supply
Ann Hunter
Integrity Dental Services
Maguire Refining
Manta HealthTech
Metro Dentalcare Maplewood
Metro Dentalcare Roseville
Miller Architects & Builders LLC
Patterson Dental Supply
Prescott's Surgical Microscopes
River's Edge Convention Center
rsvpBOOK.com
Ruby Dental
Star of the North
Sunset Dental Technologies, LLC
Tokuyama
Ultradent
Tim VanWychen
Zirc Dental Products, Inc.
3M Oral Care