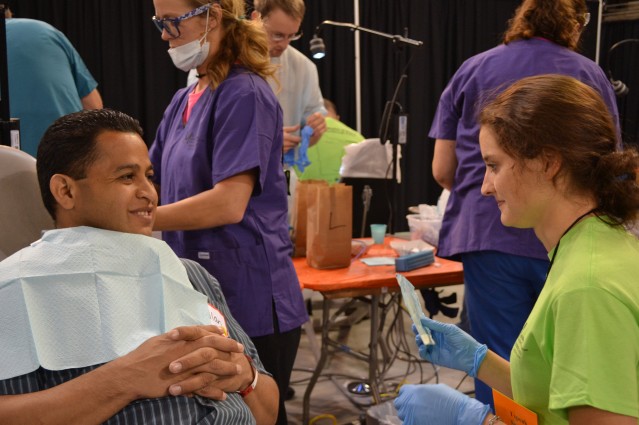 If you are currently in pain, do not wait for the MnMOM for treatment. Please see Low-Cost Dental Care for a list of local, low-cost or sliding-scale clinics in your area.
The Minnesota Mission of Mercy (MnMOM) is a large-scale dental clinic where dental treatment is provided at no cost to individuals who cannot afford dental care. Treatment is provided first-come, first-served and it is expected that over 1,000 individuals will be attending this year's event, so please come early! Patients do not preregister.
Informational Flyer
View our patient flyer with event details.
Services Provided
Cleanings (Hygiene)
Fillings (Restorative)
Root canal treatments on front teeth (Endodontics)
A limited number of temporary partial dental appliances (Prosthodontics)
Extractions (Oral Surgery)
Oral health instruction
Pediatric dentists will treat children (Kids' Dentistry)
THE FOLLOWING SERVICES ARE NOT AVAILABLE:
Full dentures
Root canals on molars
Crowns
Extractions of unexposed wisdom teeth
Narcotics will not be dispensed
What to Expect
You will be treated with respect and dignity.
Doors will open at 5:30 a.m. At some point in the afternoon we will have to stop accepting new patients for the day.
Camping overnight in line is okay. A waiting room is available inside the convention center.
Patient Parking: The first 300 patient cars parking at the River's Edge West Parking Ramp are complimentary. View directions and all parking information here. An additional parking map (with details on the River's Edge West and East ramps) can be viewed here.
Dental treatment will be provided on a first-come, first-served basis. No appointments will be taken.
You will need to provide basic personal information (name, address, etc.). You will not be asked for identification.
You will be screened for medical issues that may disqualify you for treatment (i.e., blood sugar over 300, B/P over 190/105 and other conditions).
A dentist will identify priority treatment needs.
As dentists and dental hygienists become available, you will be taken to areas of the dental clinic for dental treatment.
For patients meeting medical guidelines, one procedure is guaranteed. If time permits, you are allowed to return to the end of the line after each procedure to receive additional treatment. Multiple extractions may disqualify you from additional treatment in the same day.
Bilingual volunteers may be available to assist non-English speaking patients.
You will not be charged for any services, nor will you be asked to show any proof of income or insurance.
Children in a family will be treated first and will remain with their parent or guardian throughout the process.
Location & Directions
St. Cloud River's Edge Convention Center
10 4th Ave. S.
St. Cloud, MN 56301
What to Bring
Patients will be waiting for their turn to meet with the dentists and dental hygienists. It's a good idea to bring things such as books, magazines, crossword puzzles, or knitting to help pass the time. If you have any recent dental x-rays, please bring them. PLEASE also bring water, food and snacks since onsite food will be limited.
Parents of young children should be prepared to keep their children with them at all times and keep them entertained during waiting periods. Child care is not provided.