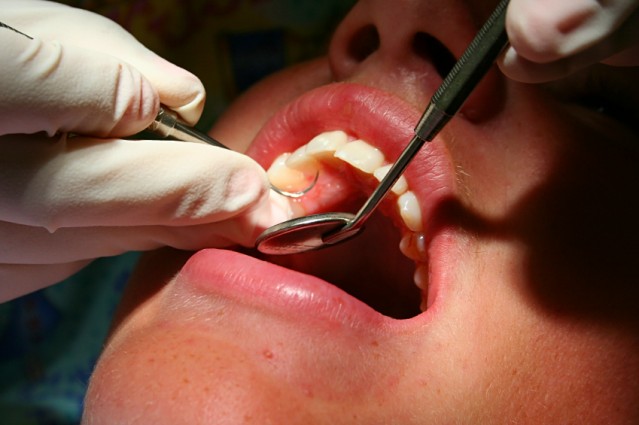 A career as a dental hygienist offers a wide range of challenges. In the dental office, the dentist and the dental hygienist work together to meet the oral health needs of patients and working with people is one of the most enjoyable aspects of this career.  Dental hygienists perform a variety of services including patient screening, taking x-rays, removing plaque from teeth, applying sealants and fluorides, and educating/counseling patients about good oral hygiene and nutrition.
Dental Hygiene Programs in Minnesota
Century College
Department of Dental Hygiene
3300 Century Avenue North
White Bear Lake, MN 55110
Phone: 651-779-3200
Website
Herzing University
Department of Dental Hygiene
435 Ford Road
St. Louis Park, MN 55426
Phone: 763-535-3000
Website
Lake Superior College
Dental Hygiene Program
2101 Trinity Road
Duluth, MN 55811
Phone: 218-733-5988
Website
Minnesota State University, Mankato
Department of Dental Hygiene
3 Morris Hall
PO Box 8400
Mankato, MN 56002-8400
Website
Metropolitan State University
700 East Seventh Street
St. Paul, MN 55106-5000
Phone: 651-793-1373
Website
*This program is a BSDH dental hygiene degree completion program, partnered with Normandale Community College.
Minnesota State Community and Technical College
Department of Dental Hygiene
1900 28th Avenue South
Moorhead, MN 56560
Phone: 218-299-6500
Website
Normandale Community College
Department of Dental Hygiene
9700 France Avenue S.
Bloomington, MN 55431
Phone: 952-358-8636
Website
Rochester Community and Technical College
Department of Dental Hygiene
851 30th Avenue South East
Rochester, MN 55904
Phone: 507-280-3114
Website
St. Cloud Technical College
Department of Dental Hygiene
1540 Northway Drive
St. Cloud, MN 56301
Phone: 320-308-5906
Website
University of Minnesota
Division of Dental Hygiene
9-426 Moos Tower
515 Delaware Street South East
Minneapolis, MN 55455
Phone: 612-625-9121
Website
Collaborative Practice Authorization for DENTAL HYGIENISTS in Community Settings
Extending preventive dental care to people in need may be accomplished using appropriately qualified dental hygienists who have entered a legal "collaborative agreement" with a licensed dentist. While this type of practice cannot meet the comprehensive dental needs of a community, it does offer a cost-effective and efficient way to increase access to care and prevent dental problems in the first place.
A Collaborative Agreement template is available HERE.
To learn what is required of dentists and dental hygienists who wish to enter collaborative practice, visit the Normandale Community College "Minnesota 21st Century Dental Team" website. The site contains numerous resources, including a set of five Collaborative Dental Hygiene Practice "Coffee Talks" videos that describe topics such as legal liability, use of mobile/portable dental equipment and billing for dental hygiene services.
The Minnesota Board of Dentistry has reviewed the template, which is meant to provide guidance, for accuracy. The content of the collaborative agreement must align with applicable laws and rules and be based on the agreement between practitioners.  The Minnesota law governing this type of practice is found HERE, under Subd.1a. Collaborative practice authorization for dental hygienists in community settings.