Get your tickets to the 2018 OneSmile Gala
About the Event
The Minnesota Dental Foundation invites you to the 2018 OneSmile Gala. This year's event will be held on Friday, October 5, 2018, at the Radisson Blu Hotel in Bloomington. This exciting event will showcase the many activities of the Foundation and will highlight several organizations benefitting from the work of the Foundation. Come out and support the Foundation's mission of eliminating unmet oral health needs in Minnesota!
Date and Location
Friday, October 5, 2018
Radisson Blu Mall of America
2100 Killebrew Drive
Bloomington, MN  55425
Gala Night
5:30 – 7:30 p.m.
Cocktail Reception & Silent Auction
7:30 p.m.
Dinner & Program
9:00 – 10:30 p.m.
Music & Dancing
Tickets
Tickets are available individually for $150 or Gold, Silver, and Bronze VIP tables are available for up to 10 guests.
Purchase individual tickets online
Purchase individual tickets (PDF)
Donate
Auction Donations
To donate a silent auction item to the 2018 OneSmile Gala Silent Auction, please fill out the form below.
2018 Silent Auction Donation Form
Other Donations
If you are unable to attend the OneSmile Gala but would like to support the Foundation's activities, consider donating to the Minnesota Dental Foundation online.
Sponsorship Opportunities
There is a limited opportunity for special sponsorships.  Please contact Jacquie Durant (jdurant@mndental.org) or at 612-767-4251 for additional information.
Other Information to Note
Hotel Block
The Foundation has arranged for a block of rooms to be available at the Radisson Blu Hotel Mall of America at the room rental rate of $159.00.  Rooms within the courtesy block are available until September 14.  To make your reservation, please contact the hotel directly at 1-800-333-3333 and mention the Minnesota Dental Foundation OneSmile Gala.
Dress Code
Dress code is cocktail attire.
We hope to see you there!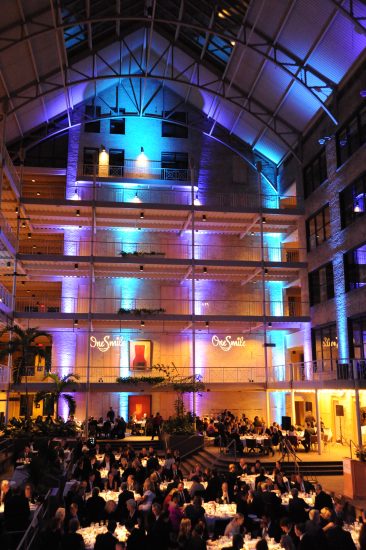 Thank you
The Minnesota Dental Association held its third successful OneSmile Gala on October 13, 2017, at the International Market Square.
We thank each of the over 300 attendees and the over 100 donors of items to the silent auction. The 28 Gold, Silver, and Bronze table donors and the four event sponsors added to the success of the evening. Lastly, donors to the event, both before and after, as well as the over 60 donors to the Fun-A-Need, added to the success of the whole event.
Please visit our photo album to see photos of the event.
2017 Donors
Gold VIP Tables
Delta Dental of Minnesota
Park Dental/The Dental Specialists
Henry Schein Dental
Metro Dentalcare
Minnesota Dental Association
Minnesota Dental Foundation
Silver VIP Tables
Dentistry for Children & Adolescents
Drs. Robert & Laura Eng
Erickson Technologies, Inc
Oral and Maxillofacial Surgical Consultants
ADT Dental/Ready Set Smile
St. Paul District Dental Society
Bronze VIP Tables
Associated Dentists
BergenKDV
Dignified Dental
Ekim Orthodontics
HealthPartners
Hope Dental Clinic
Dr. Mike Kurkowski
Maplewood Pediatric Dentistry & Tweet Pediatric Dentistry
Metropolitan Pediatric Dental
Minneapolis District Dental Society
Northeastern District Dental Society
Northwestern District Dental Society
OperaDDS
SPDDS Speakers Bureau
University of Minnesota School of Dentistry
White Bear Lake Endodontics
Sponsorships
Patterson Dental
Midwest Dental
Henry Schein Dental
Dr. Teresa Fong and Mr. Ron Sit
Cash or In-Kind Donors
9-Yum Yum
Adogo Pet Hotels
Advanced Practice Management
Afton Alps
al Vento
AMC Theaters
Amy Rondeau Photography
Aquatic Park, St Louis Park
Dr. Neil & Naomi Arnold
Augustine's Bar & Bakery
Dr. Bashar Bakdash
Bakken Museum
Bergstrom Jewelers
Best Card Credit Card Processing
Dr. Ed Bick
Black Bear Casino/Golf
Black Sheep Coal Fired Pizza
Brandenburg Gallery
Breadsmith
Brueggers Bagels
Bryant Lake Bowl
Capital Geneology
Centrasota Oral Surgeons
Chianti Grill
Chipotle
Clives Roadhouse
Costco
Crooners Lounge/Supper Club (Dunsmore Room)
Crossroads Delicatessen
Dellwood Country Club
Dr. Kevin Dens
Dental Lifeline Network
Doolittles Woodfire Grill
Dr. T. Knives
Emagine Theaters
Drs. Laura & Robert Eng
Escape Lounge – MSP Airport
Escape MSP – Golden Valley
Escape MSP – St. Paul
Forget Me Not in Stillwater
Fortune Bay Resort & Casino and Golf at The Wilderness at Fortune Bay
Fox Hollow Golf Club
Dr. Samuel & Jane Friedman
Dr. & Mrs. Raymond Garland
Gateway Bank – Bruce Downey
Gertens Greenhouses
Giant's Ridge home – Stan Dobrin
Giant's Ridge Golf
Grand Casino
Guthrie Theater
Hennepin Theatre Trust
HOM Furniture
Hummingbird Floral
HyVee Grocery
Izzy's Ice Cream
Jackie Gene's Hair Design
Jayne Morrison Interiors
Jensen's Food & Cocktails
Dr. Lee & Mary Jo Jess
Dr. Donald Johnson
Kuiper's Ace Hardware
Daniel Kurkowski
Dr. Mike & Marcia Kurkowski
Kwik Trip
Dr. Doug & Anna Mae Lambert
Les Bolstad U of M Golf Course
Lindsay Strand Associates
Dr. Stephen Litton
Lock and Key Escape Rooms
Maddens on Gull Lake
Magdalena Events & Consulting
Maguire Refining
MB2 Raceway
Minnesota Landscape Arboretum
Minnesota Pro Paintball
Minnesota Public Radio
Minnesota State Fair
Minnesota Vikings
Monello Restaurant
Mystic Lake Casino
National Camera Exchange
Nickolodeon Universe at Mall of America
Nordic Ware
Northwestern District Dental Society
Old Fashioned Donut Shoppe
Old Log Theatre
OperaDDS
Ordway Center for the Performing Arts
Paddletap
Padelford Riverboats
Paint, Sip, Nosh
Park Square Theatre
Patagonia
Dr. Michael Pelke
Picaboo
Pilgrim Cleaners
Dr. Megan Pint
Mike & Linda Platt
Potbelly Sandwich Works
Prairie's Edge Casino
R.F. Moeller Jewelers
Radisson Blu – Bloomington
Raising Cane
Red Cow Restaurant & Bar
Renstrom Dental Studio Inc
Art & Cheri Rolnick
Run N Fun
Running Aces
Sally's Saloon
Sea Glass Fine Art Photography
Cathy Seward & Tom Piechel
Shea Practice Transitions – Kevin Shea
St. Paul Bagelry
St. Paul Hotel
St. Paul Saints Baseball
Stages Theatre Company
Steger Mukluks & Moccasins
Dr. Donna Stenberg
Successful Simplicity
Summit Brewing
Surly Brewing Company
Sweet Chocolat
TASC
The Toro Company
Dr. Anita Thomas
Total Wine & More
Trader Joe's
University of Minnesota School of Dentistry
US Bank
Valley Pastries
Mr. Bernie Verona
Vertical Endeavors
Wells Fargo Bank – Golden Valley
Wheel Fun Rentals
Wild Mountain/Taylors Falls Recreation
Woolley's American Steakhouse
Woullet Bakery
Dr. Michael and Lisa Zakula
View the Minnesota Dental Foundation's Donor Privacy Policy here.