Save the Date for the 2020 OneSmile Gala
Join us for this year's OneSmile Gala!
Friday, October 2, 2020
Renaissance Minneapolis Hotel, the Depot
225 S 3rd Ave
Minneapolis, MN 55401
The evening will include delicious food, silent auction, games, fund-a-need opportunities, and other fun activities! This exciting event will showcase the many activities of the Foundation and will highlight several organizations benefitting from the work of the Foundation. Come out and support the Foundation's mission of eliminating unmet oral health needs in Minnesota!
Gala Night Schedule
5:30 – 7:30 p.m.
Cocktail Reception & Silent Auction
7:30 p.m.
Dinner & Program
9:00 – 10:30 p.m.
Music and Dancing
Tickets
Information on ticket purchase will be available in March 2020.
Donate
Auction Donations
To donate a silent auction item to the 2020 OneSmile Gala Silent Auction, please fill out the form below.
2020 Silent Auction Donation Form
Other Donations
If you are unable to attend the OneSmile Gala but would like to support the Foundation's activities, consider donating to the Minnesota Dental Foundation online.
Sponsorship Opportunities
There is a limited opportunity for special sponsorships.  Please contact Jacquie Durant (jdurant@mndental.org) or at 612-767-4251 for additional information.
Dress Code
Dress code is cocktail attire.
We hope to see you there!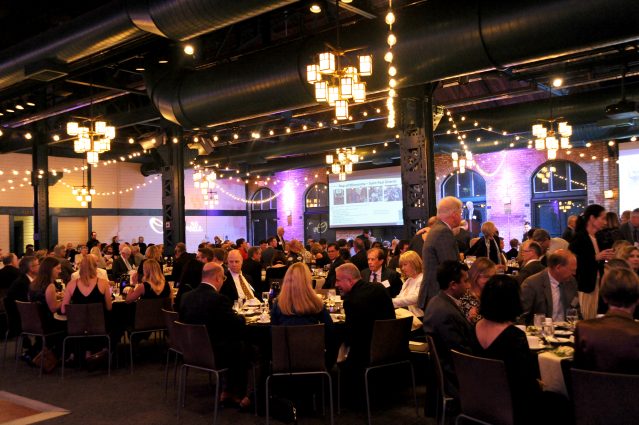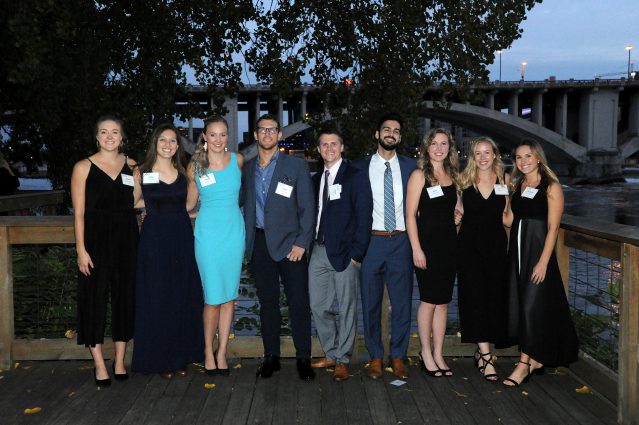 Thank you
The Minnesota Dental Foundation held its fifth successful OneSmile Gala on September 27, 2019, at the Nicollet Island Pavilion.
We thank each of the over 300 attendees and the over 150 donors of items to the silent auction and mystery box game. The 25 Gold, Silver, and Bronze table donors and the four event sponsors added to the success of the evening. Lastly, donors to the event, as well as the over 60 donors to the Fund-a-Need, added to the success of the whole event.
Please visit our photo album to see photos of previous events.
2019 Donors
Gold VIP Tables
Delta Dental of Minnesota
Park Dental
Drs. Bowlby, Colby, Dillon, Espe, Holmberg, Vayda, & Vayda
Minnesota Dental Association
Minnesota Dental Foundation
Silver VIP Tables
Ekim Orthodontics
Dakota Valley Oral and Maxillofacial Surgery
Metro Dentalcare
Drs. Robert & Laura Eng
Larkin Hoffman
Oral and Maxillofacial Surgical Consultants
St. Paul District Dental Society
Bronze VIP Tables
BergenKDV
Community Dental Care
Dentistry for Children & Adolescents
Dr. Mike & Marcia Kurkowski
Minneapolis District Dental Society
Northeastern District Dental Society
Northwestern District Dental Society
SPDDS Speakers Burear
Sunset Technologies
University of Minnesota School of Dentistry
Sponsorships
Dr. Teresa Fong and Ron Sit
Metro DentalCare
Midwest Dental
Renstrom Dental studio
Cash or In-Kind Donors
9-Yum-Yum
Djamil & Trisha Abiyev
Dr. Alejandro Aguirre
Dr. Michael Ahn
al Vento
Dr. Mohammad Alkillesly
Angela & Peter Amann
AMC Theatres
Amy Rondeau Photography
Dr. Dave & Amy Andersen
Dr. Gary Anderson
Dr. Kevin Anderson
Jen Andvik
BarkBox
Best Card Credit Card Processing
Dr. Todd Billington
Dr. Adena Borodkin
Brandenburg Gallery
Dr. Bruce Brandsness
Jennifer Breitinger
Bruegger's Bagels
Julie Burke
Jacqui Buyck
Can Can Wonderland
Vicki Capistrant
Cheesecake Factory
Chianti Grill
Dr. Ben Christopherson
Carmelo & Elizabeth Cinqueonce
Megan Cole
Commodore Hotel
Dr. Karen Competente
Costco
Crooners Lounge & Supper Club
Crossroads Delicatessen
Dr. Amber & David Cziok
Dr. Geetha Damodaran
Dr. Sally Darling
Delta Dental of Minnesota
Dr. Kevin Dens
Dr. Robert Derr
Richard Diercks
Doolittle's Woodfire Grill
Bruce & Susan Downey
Dr. T's Knives by Dr. Dave Taber
Jacquie Durant
Ted Dyste
Dyste Williams Agency
Afton Edson
Dr. L. Suzan Ekim
Drs. Robert & Laura Eng
Justin Engelmann
Drs. Pamela & Keith Erickson
Escape Lounge MSP Airport
EZ Air Park
Dr. Sara Fam
Fortune Bay Resort & Casino
Dr. Jeffrey Fox
Dr. Teresa Fong & Ron Sit
Gallery Collection
Gateway Bank
Gertens Greenhouses
Giants Ridge Golf & Villa
Giants Ridge Ski
Judy Goldetsky
Grand Casino
Guthrie Theater
Robin Halonen
Dr. Arnie & Shirley Hill
Dr. Tim & Diane Holland
Dr. Bruce & Jan Bryant Hultgren
Patrick Jacobwith
Randi James
Dawn Jensen
Sandra Jensen
Dr. Lee & Mary Jo Jess
Dr. Beth Johnson
Dr. Kirby Johnson
Mary Johnson
Jungle Theater
Craig Killian
Dr. George Kinney, Jr
Dr. Edward Kishel
Elizabeth Kratz
Kuiper's Ace Hardware
Daniel Kurkowski – Obsidian Group
Dr. Michael & Marcia Kurkowski
Kwik Trip
Dr. Venetia Laganis & Vassilios Lorellas
Joseph Lally
Dr. Doug & Anna Mae Lambert
Dr. Kirsten Langguth
Dr. Timothy & Danielle Langguth
Victoria Lanthier
Dr. Brent Larson
Lela Restaurant & Sheraton Bloomington Hotel
Jeffrey Lenihan
Dr. & Mrs. Vladmir Leon
Lettuce Entertain You
Lexus of Wayzata
Dr. Deborah Lien
Robert & Jean Lind
Dr. Scott Lingle
Little Feet Children's Shoes
Dr. Stephen Litton
Loggers Trail Golf Course
Dr. Esteban Lugo
Dr. Sarah & Ed Magnuson
Mall of America
Dr. Patrick Mascia
Dr. Stephen McDonnell
Dr. Kenneth McDougall
Dr. Cindy McGregor Saarela
Dr. Luke McMahon
Dr. Tammy Meister
Dr. Carol Meyer
Midwest Dental Laboratory Association
Dr. James R. Miller
Susan Miller
Minneapolis District Dental Society
Minnesota Landscape Arboretum
Minnesota Orchestra
Minnesota Public Radio
Minnesota State Fair
Minnesota Timberwolves FastBreak Foundation
Minnesota Twins Baseball
Minnesota Vikings Football
Mystic Lake Casino
National Camera Exchange
Jeremy Nelson
Travis Noffke
Nordic Ware
Dr. Ana Norell
Dr. Jeffrey & Robin Norsted
Northeastern District Dental Society
Northern Dental Alliance
Northwestern District Dental Society
Nothing Bundt Cakes – Blaine
Nothing Bundt Cakes – Eagan
Nothing Bundt Cakes – Eden Prairie
Nothing Bundt Cakes – Minnetonka
Nothing Bundt Cakes – St. Paul
Nothing Bundt Cakes – Woodbury
Old Chicago
Ordway Center for the Performing Arts
Dr. Tara Orech
Daniel & Tara Owens
Paradise Charter Cruises
Patagonia
Dr. Eileen Patterson
Dr. Rose Perpich
Walter Pickhardt
Pilgrim Cleaners
Pine Lake Law & Transitions
Pinz Event Center
Prairie's Edge Casino
Punch Pizza
Michelle Quade
R.F. Moeller Jewelers
Dr. Patricia Rake
Steven Reed
Dr. Laurie Resch
Dr. Barbara Richie
Dr. Michael Rohrer
ROMA Single Barrel Brewery
Dr. James Rostvold
Dr. Mark Roszkowski
Dr. Stacy Roszkowski
Rum River Golf
Running Aces
Saint Paul District Dental Society
Dr. Michael Schafhauser
Science Museum of Minnesota
Sea Glass Fine Art Photography
Jennifer Severs
Zach Severs
Dr. Daniel Shaw
Shea Practice Transitions
Shooting Star Casino
Simonson's Salon & Spa
Dr. Roger Sjulson
Cathy Snyder
Southern District Dental Society
Southwest Airlines
St. Paul Hotel
St. Paul RiverCentre
St. Paul Saints Baseball
Stages Theatre Company
Jessica Stauffer
Dr. Christopher Steele
Dr. Donna Stenberg
Student District Dental Society
Surly Brewing Company
Peter Swenson
Dr. Loren Taple
The Toro Company
Dr. Anita Thomas & Karl Sluis
Dr. Michael Till
Twin City Model Railroad Museum
University of Minnesota School of Dentistry Alumni Association
US Bank
Dr. Christina Van Guilder
Dr. Patricia Vayda
Dr. Brian Vieregge
Dr. Scott & Kathy Wagnild
Water Joe/Premium Waters
Wells Fargo Golden Valley – Allan Steinhauer & Katy Finlayson
Dr. Joe Wenner
West Central District Dental Society
Dr. Richard Wiberg
Dr. Chad Wojtowick
Dr. James & Sonja Zenk
View the Minnesota Dental Foundation's Donor Privacy Policy here.