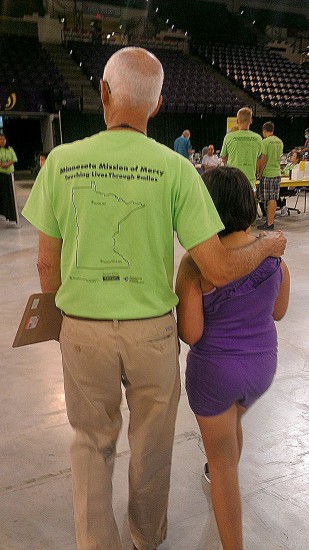 The following clinics and programs are dependent upon volunteer dentists and dental auxiliaries in order to provide much needed dental care to the underserved. The need is great and you and your staff can help in so many different ways.
C.A.R.E. Clinic, Red Wing – Contact Dental Coordinator 651-388-1022.
Caring Hands Dental Clinic, Alexandria – Contact Al Olsen 320-815-5711.
Donated Dental Services (DDS), a program of Dental Lifeline Network – Contact Katherine McGee, Minnesota Coordinator, 612-767-4257. Provides needed dental care to people with disabilities or who are elderly or medically fragile in your own office. All laboratory work provided free, as well as access to all specialties.
Give Kids A Smile (GKAS), a program held in both private dental offices and in community and volunteer clinics throughout Minnesota in February to provide needed restorative and preventative dental care to children.
Minnesota Mission of Mercy (MnMOM) – Contact Vicki Capistrant 612-767-4265. Over 1,000 volunteers including dentists, hygienists, assistants and therapists are needed. No event is scheduled for 2017.
Mission Outpost Dental Clinic/Prince of Peace Lutheran Church, Burnsville – Contact Trudy Koepsell 952-898-9318.
Northern Dental Access Center, Bemidji – Contact Jeanne Edevold Larson 218-444 -9646.
Open Door Health Center, Mankato – Contact Sierra Sellers 507-344-5505
Operation Grace MN, Twin Cities and Duluth – Contact John Braddock 507-208-5614.
Rice Regional Dental Clinic, Willmar – Contact Renee Johnson 320-214-2622.
Salvation Army Good Samaritan Dental Clinic, Rochester – Contact Pam Lawrence 507-424-4199.
Sharing & Caring Hands Dental Clinic, Minneapolis – Contact Melissa Cozart 952-994-4096.
Smiles Change Lives, state wide program to provide orthodontic care at reduced fees – Contact Dr. Stephen Litton 612-868-9580.
Union Gospel Mission Dental Clinic, St. Paul – Contact Jessica Flotterud.